Pattern workshop, Herlev Bibliotek 2019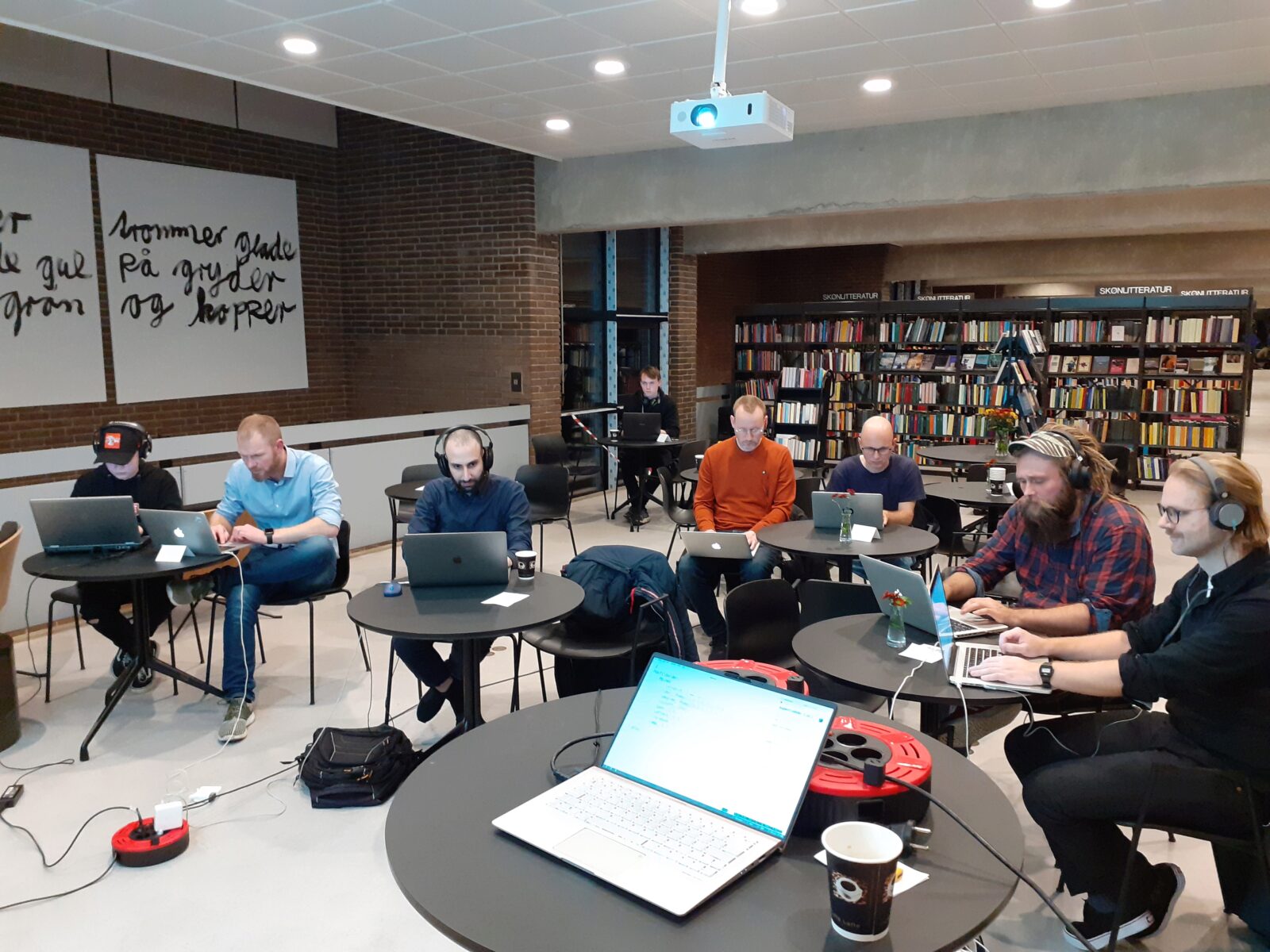 Here are the materials for the SuperCollider workshop at Herlev Bibliotek, Denmark, November 2019.
The SynthDef used for the workshop [can be downloaded here.][1]
---
SuperCollider workshop
Herlev Bibliotek, Denmark, 2019
---
About me
Name: Mads Kjeldgaard
Occupation: Composer and developer
Work: The Norwegian Center for Technology and Art (Notam)
---
---
Notam
Development for art projects (hardware, software, tech and artistic guidance)
Communities / meetups (SC meetup among others)
Studios / 3D sound / VR / Visuals
Courses
---
My practice
Computer music / livecoding
Field recording
3D sound composition
Sound environments
---
Contact info
---
Design
---
Short history of SuperCollider
SC was designed by James McCartney as closed source proprietary software
Version 1 came out in 1996 based on a Max object called Pyrite. Cost 250$+shipping and could only run on PowerMacs.
Became free open source software in 2002 and is now cross platform.
---
Overview
When you download SuperCollider, you get an application that consists of 3 separate programs:
The IDE, a smart text editor
The SuperCollider language / client (sclang)
The SuperCollider sound server (scsynth)
---
Architecture

The client (language and interpreter) communicates with the server (signal processing)
This happens over the network using Open Sound Control
---
Multiple servers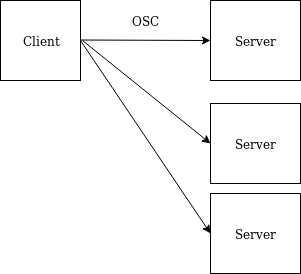 This modular / networked design means one client can control many servers
---
Consequences of this modular design
Each of SuperCollider's components are replacable
IDE <—> Atom, Vim, or Visual Studio
language <—> Python, CLisp, Javascript
server <—> Max/MSP, Ableton Live, Reaper
---
Extending SuperCollider
The functionality of SuperCollider can be extended using external packages
These are called Quarks and can be installed using SuperCollider itself
// Install packages via GUI (does not contain all packages)
Quarks.gui;

// Install package outside of gui using URL
Quarks.install("https://github.com/madskjeldgaard/KModules");

---
SC Plugins
SC3 Plugins is a collection of user contributed code, mostly for making sound
The plugins are quite essential (and of varying quality / maintenance)
---
IDE
---
---
Important keyboard shortcuts
Open help file for thing under cursor: Ctrl/cmd + d
Evaluate code block: Ctrl/cmd + enter
Stop all running code: Ctrl/cmd + .
Start audio server: Ctrl/cmd + b
Recompile: Ctrl/cmd + shift + l
Clear post window: Ctrl/cmd + shift + p
---
The IDE as a calculator
SuperCollider is an interpreted language
This means we can "live code" it without waiting for it to compile
A good example of this is using it as a calculator
---
Autocompletion
Start typing and see a menu pop up with suggestions (and help files)
---
The status line
Shows information about system usage
Right click to see server options + volume slider
---
About livecoding
---
What is it?
The act of using a piece of software, while you write/modify it
---
A quote
"In live coding the performance is the process of soware development, rather than its outcome." - Alex McLean, Artist-Programmers and Programming Languages for the Arts, 2011
---
Livecoding isn't special
It is used all the time now in web design, science and software development to prototype / finetune ideas interactively.
---
Livecoding SuperCollider
Since SuperCollider is an interactive programming language and not a compiled one (as opposed to Csound for example), you are in effect always livecoding in SuperCollider.
---
Livecoding music: Kind of special after all
Musical livecoding is intrinsically connected to improvisation.
It can be compared to playing a jazz concert on a guitar…
---
Except
… You are actually building the guitar itself, while playing it.
---
Quick history of live coding music
Took off in the early 2000's
Around 2000: Slub started playing with screen projections
Around same time: TSpawn trick -> Hot swapping code in SC
---
General strategies
Building / reworking an instrument (using NodeProxy/Ndef)
Writing or modifying patterns (using ProxySpace/Pdef)
A mix of the above
---
What are the rules of live coding?
There are none!
Do whatever you like!
Crush all conventions!
---
About patterns
---
From the Pattern help file:
"[The Pattern] classes form a rich and concise score language for music"
---
In other words:
Patterns are used to sequence and compose music
---
Abstracting the composition process
the conditions for a composition vs. a fixed composition
---
It's just data
Easily transpose, stretch and warp the composition
---
Duration is not an issue
Composing a 4 bar loop is not necessarily any more or less work than a 4 hour one
---
Guides in the help system
Patterns are pretty well documented in the help system:
---
Event patterns
---
Like pressing the key of a piano
What data does that involve?
---
Duration of key press
Pitch of the key
Sustain (are you holding the foot pedal?)
etc. etc.
---
What an Event looks like
// See the post window when evaluating these
().play; // Default event
(freq:999).play; 
(freq:123, sustain: 8).play;

---
Changing the default synth
The default synth sucks
You can change it by defining a new synth called \default
More info on my website
---
Introducing the allmighty Pbind
Arguably the most important pattern class in SuperCollider
---
Pbind data
Pbind simply consists of a list of key/value pairs
---
Keys correspond to Synth arguments
Most often, keys correspond to a Synth's arguments.
Example: If a SynthDef has the argument cutoff, we can access that argument in a Pbind using \cutoff.
---
Some keys are special
---
dur
\dur is used in most SynthDef's to specify the duration of a note/event.
Make sure this key never gets the value 0.
---
stretch
\stretch is used to stretch or shrink the timing of a Pbind
---
When does a Pbind end?
If one of the keys of a Pbind are supplied with a fixed length value pattern, the one running out of values first, will make the Pbind end.
---
Livecoding: Pdef
Livecoding patterns is easy. All you have to do is wrap your event pattern (Pbind) in a Pdef:
Pdef('myCoolPattern', Pbind(...)).play;

---
What this means
The Pdef has a name ('myCoolPattern') which is a kind of data slot accessible throughout your system
Everytime you evaluate this code, it overwrites that data slot (maintaining only one copy)
---
Value patterns
---
The building blocks of compositions
List patterns
Random patterns
Envelope patterns
Rests
Data sharing between event parameters
Patterns in patterns
---
List patterns
See all of them here
---
Pseq: Classic sequencer
// Play values 1 then 2 then 3
Pseq([1,2,3]);

// 4 to the floor
Pseq([1,1,1,1]);

---
Testing value patterns: asStream
You will see the .asStream method a lot in the documentation for value patterns.
// Pattern
p = Pseq([1,2,3]);

// Convert to stream
p = p.asStream;

// See what values the pattern produces
p.next; // 1, 2, 3, nil

---
Random value patterns: Pwhite and Pbrown
// (Pseudo) random values
Pwhite(lo: 0.0, hi: 1.0, length: inf);

// Drunk walk
Pbrown(lo: 0.0, hi: 1.0, step: 0.125, length: inf);

---
Random sequence patterns: Prand and Pxrand
// Randomly choose from a list
Prand([1,2,3],inf);

// Randomly choose from a list (no repeating elements)
Pxrand([1,2,3],inf);

---
Probability: Pwrand
Choose items in a list depending on probability
// 50/50 chance of either 1 or 10
Pwrand([1, 10], [0.5, 0.5])

// 25% chance of 1, 25% change of 3, 50% chance of 7
Pwrand([1, 3, 7], [0.25, 0.25, 0.5])

// 30% chance of 3, 40% change of 2, 30% chance of 5
Pwrand([4, 2, 5], [0.3, 0.4, 0.3])

---
Envelope pattern: Pseg
// Linear envelope from 1 to 5 in 4 beats
Pseg( levels: [1, 5], durs: 4, curves: \linear);

// Exponential envelope from 10 to 10000 in 8 beats 
Pseg( levels: [10, 10000], durs: 8, curves: \exp);

---
Rest
Skip/sleep a pattern using Rest. If used in the \dur key of a Pbind, the value in the parenthesis is the sleep time
// One beat, two beats, rest 1 beat, 3 beats
Pbind(\dur, Pseq([1,2,Rest(1),3])).play;

---
Pkey: Share data between event keys
Using Pkey we can make an event's parameters interact with eachother
// The higher the scale degree
// ... the shorter the sound
Pbind(
    \degree, Pwhite(1,10),
    \dur, 1 / Pkey(\degree)
).play

More info about data sharing in patterns: here
---
patterns in patterns: The computer music inception
You can put patterns in almost all parts of patterns.
This may lead to interesting results:
// A sequence with 3 random values at the end
Pseq([1,2,Pwhite(1,10,3)]);

// An exponential envelope of random length
Pseg(levels: [10, 10000], durs: Pwhite(1,10), curves: \exp);

---
Working with pitches and Pbinds
---
Pitch model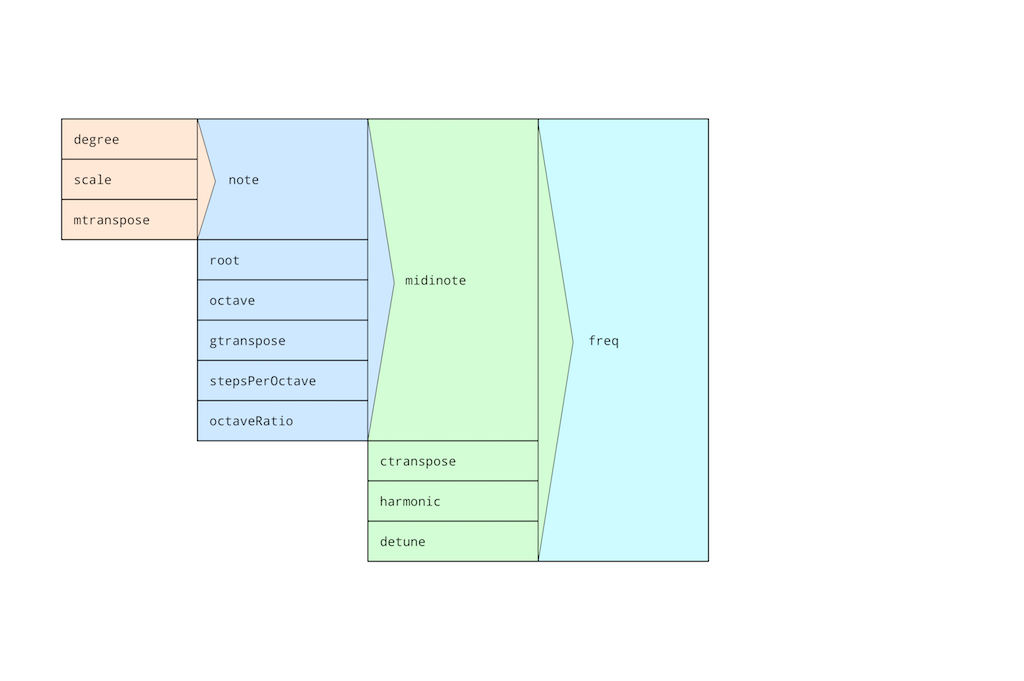 ---
Changing scales
// Use the \scale key, pass in a Scale object
Pbind(\scale, Scale.minor, \degree, Pseq((1..10))).play;
Pbind(\scale, Scale.major, \degree, Pseq((1..10))).play;
Pbind(\scale, Scale.bhairav, \degree, Pseq((1..10))).play;

---
Available scales
// See all available scales
Scale.directory.postln

---
Changing root note
// Use the \root key to transpose root note (halftones)
Pbind(\root, 0, \degree, Pseq((1..10))).play;
Pbind(\root, 1, \degree, Pseq((1..10))).play;
Pbind(\root, 2, \degree, Pseq((1..10))).play;

---
Changing octaves
// Use the \octave key
Pbind(\octave, Pseq([2,4,5],inf), \degree, Pseq((1..10))).play;
Pbind(\octave, Pwhite(3,6), \degree, Pseq((1..10))).play;
Pbind(\octave, 7, \degree, Pseq((1..10))).play;

---
Playing chords
// Add an array of numbers to the degree parameter 
// to play several synths at the same time (as a chord)
Pbind(\degree, [0,2,5] + Pseq([2,4,5],inf), \dur, 0.25).play;

---
Changing tempo
The tempo of patterns are controlled by the TempoClock class You can either create your own TempoClock or modify the default clock like below
TempoClock.default.tempo_(0.5) // Half tempo
TempoClock.default.tempo_(0.25) // quarter tempo
TempoClock.default.tempo_(1) // normal tempo

---
Learning resources
---
Videos
Tutorials by Eli Fieldsteel covering a range of subjects: SuperCollider Tutorials
---
Books
E-books
Paper books
---
Community
---
Awesome SuperCollider
A curated list of SuperCollider stuff
Find inspiration and (a lot more) more resources here:
---
Learning to code: Advice
Practice 5 minutes every day
Set yourself goals: Make (small) projects
Use the community
---